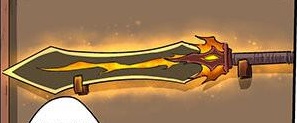 Manhua Variant:The price is not list in the novel but said to be 200,000 Demon Spirit Coins in the Manhua.[1] In the Manhua the sword is destroyed by the 5 Star Silver spiritual grade Giant Blue Armed Ape in the Ancient Orchid City Ruins.[2]

A bronze rank sword purchased at Secret Treasure Pavilion by Nie Li.[3]
---
Ad blocker interference detected!
Wikia is a free-to-use site that makes money from advertising. We have a modified experience for viewers using ad blockers

Wikia is not accessible if you've made further modifications. Remove the custom ad blocker rule(s) and the page will load as expected.